Tomato millefeuilles with Trésor de jardin®
Temps de préparation :

15 min

Temps de cuisson :

0 min

Difficulté :

Nombre de personnes :

4 pers.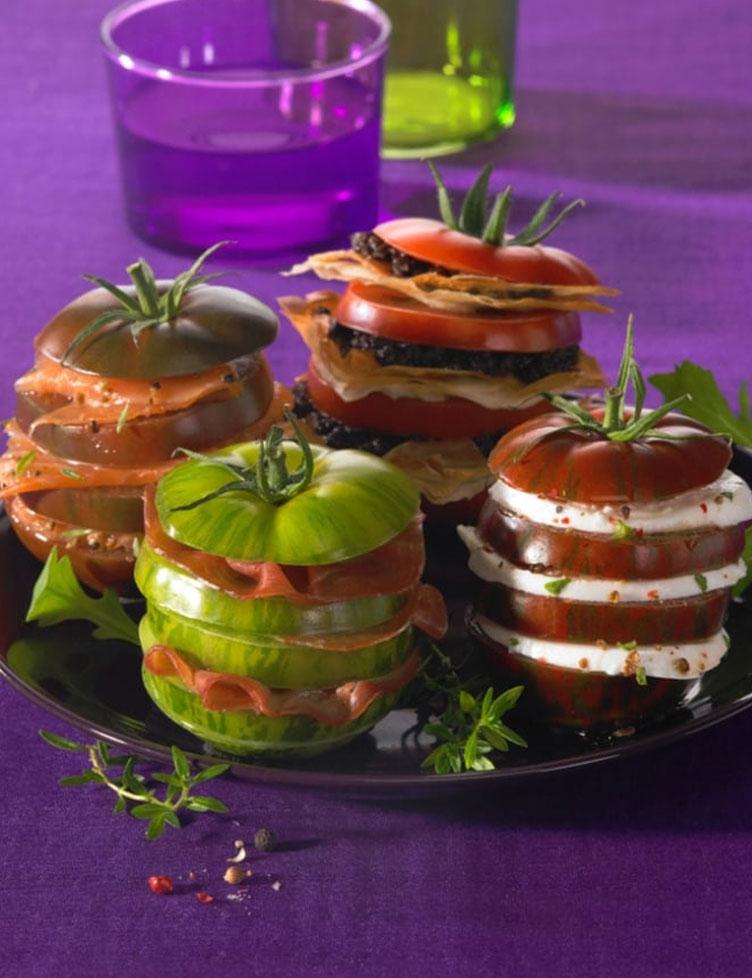 Ingrédients
4 Savéol Trésor de Jardin® tomatoes
3 sheets of filo or brik pastry
25 g black tapenade
1 ball of buffalo mozzarella
1 slice of Parma ham
1 slice of marinated smoked salmon
red peppercorns
2 tbsp. olive oil
1 tbsp. balsamic vinegar
Salt and pepper
Freshly chopped basil or coriander
Small black olives, coarsely chopped (optional)
Process
Pre-heat the oven to 200°C (gas mark 7/8).
Slice the tomatoes lengthwise. They should not be too thin.
Cut the salmon and the ham into 4 pieces and slice the mozzarella finely.
Prepare the filo pastry: place the 3 sheets on top of each other and cut into roughly 7 cm squares. Place these squares in an ovenproof dish and bake for 4 to 5 minutes until golden. The pastry should rise slightly. Allow to cool before spreading them with the black tapenade.
Arrange the millefeuilles by placing the following between the slices:
- Parma ham for the Tigreen tomato
- salmon for the Créole tomato
- mozzarella scattered with red peppercorns for the brown zebra tomato
- the pastry squares and tapenade for the red tomato
Season to taste when it is time to serve.
Tip : Complement this unrivalled feast of flavours with colourful salads or carpaccios.