The leaping ladybird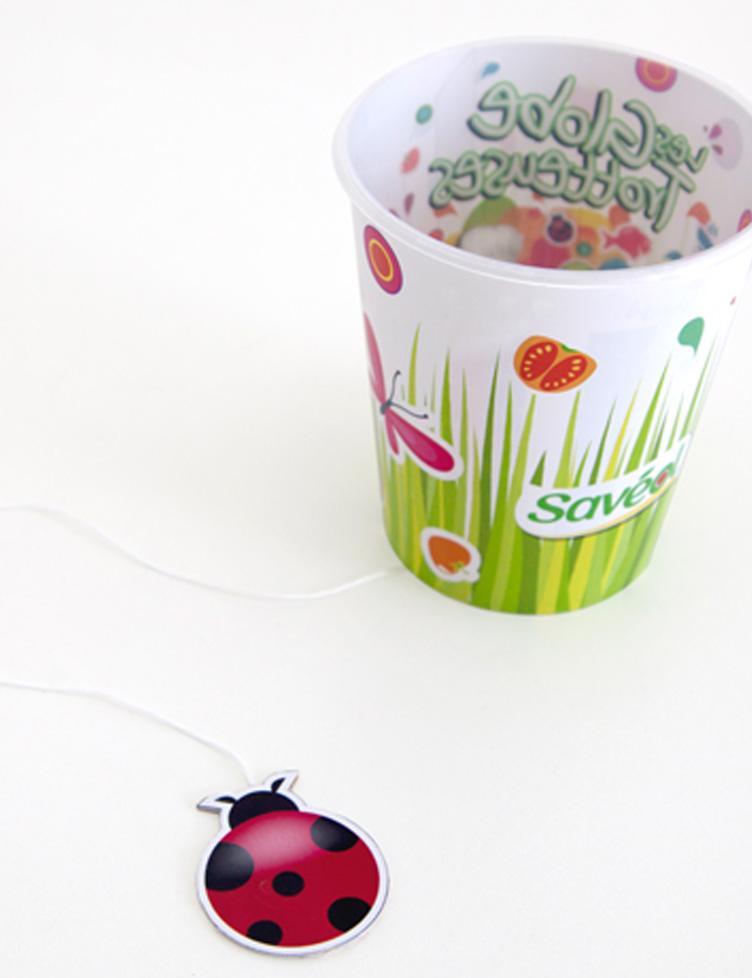 Materials
1 Globe Trotteuses shaker
A pair of scissors
A stick of glue
A piece of cardboard
30 cm of cooking string
A box cutter or pin (with an adult's help)
The templates (to print out)
Process
During their travels, the Globe Trotteuses met a leaping ladybird...
If you want to play too, come spend some time in their workshop!

The templates to print out Ladybird et Savéol's Garden
Step 1: Ask an adult to make a small hole at the bottom of your shaker using a box cutter or pin.
Step 2: Pass the string through the hole and then make a knot to hold it at the bottom of the shaker. You can also add a piece of tape to the bottom of your shaker if necessary.
Step 3: Cut out the Savéol garden and the ladybird (front and back).
Step 4: Glue together both ends of Savéol garden by placing the white tab on the inside, then cover your shaker with it.
Step 5: Glue both sides of the ladybird onto a thin piece of cardboard (from a cereal box, for example). Remember to stick the end of the string inside.
Hold the shaker with one hand and try to get the ladybird to land inside. How many times will you catch her in 1 minute?
Now you're ready to show off and challenge your friends!